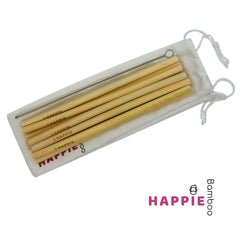 Every day millions of plastic single use straws find their way into our beautiful oceans, polluting beaches and suffocating our marine wildlife. We are excited to see that the movement against using plastic straws is growing stronger & Bamboo is the perfect sustainable environmentally friendly alternative, it isn't weak like paper or doesn't clink on the teeth like Stainless Steel!
As it's a natural product no 2 products are exactly the same - you will see variances in width and colour and even some lovely curves!
What are the benefits of using bamboo straws?
Firstly, the shape of a bamboo stalk naturally makes the perfect straw. From a health perspective, it makes sense to use bamboo straws as they are completely natural, organic and anti-bacterial.
Bamboo straws should last hundreds of uses with the proper care. Check out our Care Instructions for best cleaning practices.
Bamboo Straws will begin to compost the moment that you decide it's ready to go back to nature. A plastic straw, on the other hand, can take thousands of years to break down into small pieces and will never completely disappear, too often ending up in our precious oceans or devastatingly found in the stomach lining of our marine life.
Handcrafted in Vietnam