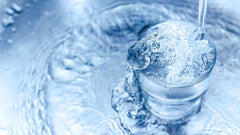 SAVE MONEY!
Bottled water isn't just more expensive than tap water – it's a lot more expensive.
According to the Australian Museum the cost of tap water is 1 cent per litre compared to bottled water which costs $2.53. So, if you drink a litre of water every day, the difference in cost is $886.95 ($923.45 vs $36.50), that's per person! For a family of 4, we're talking $3,547.80, that's a nice family holiday.
REDUCE WASTE AND POLLUTION
According to The Australian museum, manufacturing the plastic bottles that are used in Australia each year calls for more than 400,000 barrels of oil to be used.
And unfortunately, approximately 7 billion of these recyclable plastic water bottles end up in landfills or our oceans every year.
BOTTLED WATER TASTES BETTER?
Many may argue that taste and overall quality of tap water is a reason to not drink straight from your tap. 45% of the world's bottled water comes from municipal water supply systems (also known as "tap water"). That's right, major bottled water companies get about 55% of their water from natural springs but the rest is essentially tap water that is treated in their plants and filtration systems.
If you don't like the taste of your tap water, you can convert that water into clean, pure tasting water with each glass. There are numerous filtration systems that will help remove the impurities that are known to swim around in your tap-water-filled glass. These filtration systems are water coolers that connect directly to your building's water line and will filter the water before it hits your cup.
PLASTIC BOTTLES HAVE PLASTIC FIBERS IN THEM... SO YOU'RE DRINKING PLASTIC
The World Health Organisation (WHO) did a review into the potential health problems that may arise from microplastics in bottled drinking water. The study found plastic in 93% of the samples analysed that were from 250 bottles of water in Brazil, China, India, Indonesia, Kenya, Lebanon, Mexico, Thailand and the United States and were contaminated with plastic including polypropylene, nylon, and polyethylene terephthalate (PET).
And as for bottled water being completely pristine, Dr Peter Cox, principal advisor on public health at Sydney Water, says that even if you take the cleanest water out of a spring, microorganisms will change the water quality. "People like to believe bottled water is pure, straight from nature, with no human intervention, but it has to be treated." And as it's widely agreed among experts that Australia has some of the best tap water in the world, suddenly your tap water looks pretty good right?
SEND A MESSAGE, JOIN A WORLDWIDE MOVEMENT
Using a reusable water bottle is like bringing your own bags to the grocery store - it shows you care about the environment and brings awareness.